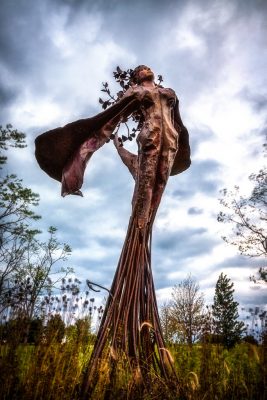 ---
Grounding Flight Wellness Center
---
"Grounding Flight" symbolizes the dynamic relationship between the need for a stable feeling of being rooted, supported and nourished and the desire to freely and courageously reach for your goals and dreams. The phrase was inspired by the metal sculptures of "The Daphnes" found on Northerly Island in Chicago, IL. These three figures (with a fourth found at Congress and Michigan Ave) are female "spirit" figures with leaves in their hair, flying leaves for arms, and a root/vine-like base that grounds them. I have long been inspired by the meeting of the organic, metallic, feminine, and fantasy. They remind me of the importance of grounding and flow. Too often, we err on one side or the other. However, like a plane requires wings to fly and wheels to safely land or a dancer who must plié in order to leap, each of us really requires a balance between stability and exploration. We each must be grounded in who we truly are in order to become who we have the potential to be. Grounding Flight Wellness Center seeks to provide space, resources, and partnership for each client to discover their best.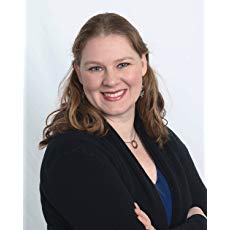 ---
Jennifer Baldwin
---
Therapist, Theologian, Trainer
---
Jennifer Baldwin, PhD, LPC, NCC, DCC, Rev. is a licensed professional counselor and an academic theologian. Grounding Flight began with roots in Chicago where she practiced her skills utilizing the IFS model of therapy. She moved the private practice to Woodstock, Georgia in 2018 and specializes in trauma recovery, mind/body connection, and faith and health. Jennifer is committed to assisting individuals, families, and communities cultivate authentic, holistic, fully present lives and relationships.
---
Jennifer's experience, training, and work is highly integrative of body, mind, and spirit. As a psychotherapist, she has postgraduate training in Internal Family Systems (IFS), Eye Movement Desensitization and Reprocessing (EMDR), clinical aromatherapy with a specialization in aromatherapy for emotional support, and somatic therapy. She has significant experience working with traumatic experiences, developmental trauma, anxiety, depression, vocational discernment, self injury, and faith challenges.
---
Human beings are not just minds—we are fully embodied, relational beings! As such, healing of relational and emotional wounds requires care of body and spirit as well as our minds. Prior to focusing on psychotherapy, Jennifer devoted significant time and training in Christian theology and was ordained by Virginia-Highland Church in 2007. She has degrees in theology from Columbia Theological Seminary (MATS) and Lutheran School of Theology at Chicago with an emphasis in religion and science (ThM, PhD). Her interdisciplinary doctoral research focused on theological responses to traumatic experiences. During her doctoral work, Jennifer began developing "Trauma Sensitive Theology" and continues to write in this area and offer training for clergy and therapist seeking to respond with theological and spiritual integrity and responsibility to survivors of traumatic experiences.
---
In addition to her role as therapist and scholar, Jennifer is a lifelong dancer with extensive training in contemporary, tap, ballet, and aerial arts. After moving from performance companies through recreational dance while in doctoral work, she began exploring and focusing on movement traditions that emphasize somatic awareness, bodymind connection, and emotional processing and exploration via movement. Her focus is now on movement practices and experiences that help us process experiences, attune to our body experiences, and find grounded balance in the midst of momentum of life.
---
Jennifer provides individual and family psychotherapy, group and individual movement experiences to connect more fully with our bodyminds, and is the author or editor of several books including Trauma Sensitive Theology, Sensing Sacred:, and Embracing the Ivory Tower and Stained Glass Windows. She is available for speaking events, small group trainings, clergy training, retreats, movement explorations, and psychotherapy.
---
Jennifer's Degrees
Jennifer's Credentials
Professional Training Classes Completed
Jennifer's Degrees
PhD, Systematic Theology with Emphasis in Religion and Science, Lutheran School of Theology at Chicago, 2013.
MSCP, Clinical Psychology, Benedictine University, Lisle, IL 2010.
ThM, Lutheran School of Theology at Chicago, 2007. 
MATS, Columbia Theological Seminary, Decatur, GA, 2004.
BA, Mercer University, Chemistry, Christianity, Macon, GA 2002.
Jennifer's Credentials
Licensed Professional Counselor (GA) LPC008900
Licensed Clinical Professional Counselor (IL) 180.008427
National Certified Counselor (NCC)
Distance Certified Counselor (DCC)
Professional Training Classes Completed
Internal Family Systems, Level 1 (2009-2010)
Internal Family Systems, Level 2 (2010-2011)
Mind, Body, and Beyond, Embodied IFS (2014)
Mind, Body, and Beyond, Embodied IFS (2016)
EMDR, Weekend 1&2 Basic Training, EMDR Institute (2014)
Floor Flow Teacher Training 1 (2017)
HeartMath Certification Training (2018)